Medicated Tokyo Love Soap 15g
Regular price
¥385
Sale price
¥350
Unit price
per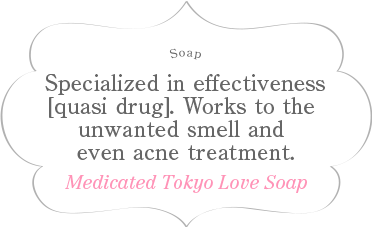 Size:15g
Unscented
For those who sweat a lot or have skin problems caused by stress.

Natural active ingredients cut down on unwanted odor.
In addition to Persimmon Tannin and Cha Ekisu as popular odor-elimination components, it is formulated with o-Cymen-5-ol as high sterilization and anti-bacterial effect. Perfect combination with 3 types of effect gently wash away unwanted odor for body, sweat and intimate area. It makes your skin more clean and hygienic.
For acne treatment. It has same anti-inflammatory effect as medicine.
Plant based "Dipotassium Glycyrrhizate" eliminates skin inflammation caused by pimples. Formulated with high safety ingredients,so it even can used for initimate zone and as face soap.

Apply to wet body and work into lather. Rinse thoroughly after use.
[ Precautions ]○Please refrain from using this product if it doesn't fit your skin and following symptoms appear.If you use it continuously, since it might worsen the symptoms, we recommend consulting dermatologist. 1. In case of redness, swelling, itching and irritant while in use. 2. In case of the skin after using the product is exposed to direct rays of the sun, and it appears abnormal symptoms like above.○Rinse immediately if the product gets into the eyes.○Since this product is including a lot of natural ingredients, it might occur color changes while in use.However, there is no problem to use it. ○Since it is including a lot of ingredients for moisturizing, please drain water well and avoid direct sunlight/ places with high heat and humidity while keeping .
[ Ingredients ]DIPOTASSIUM GLYCYRRHIZATE, O-CYMEN-5-Ol, SEKKEN SOJI-K(JPN), Active ingredients/o-Cymen-5-ol, DIPOTASSIUM GLYCYRRHIZATE Other ingredients/SOAP BASE, GLYCERIN, SODIUM HYALURONATE, CHAMOMILLA RECUTITA (MATRICARIA) FLOWER EXTRACT, SATIVA OFFICINALIS (SAGE) LEAF EXTRACT, ROSMARINUS OFFICINALIS (ROSEMARY) LEAF EXTRACT, MENTHA PIPERITA (PEPPERMINT) LEAF EXTRACT, PUERARIA LOBATA ROOT EXTRACT, ALOE BARBADENSIS LEAF EXTRACT, CHLORELLA VULGARIS EXTRACT, CAMELLIA SINENSIS LEAF EXTRACT, PERSIMMON TANNIN, HYDROLYZED SILK, SOYBEAN MILK CULTURE FILTRATE, TREHALOSE, WATER; AQUA, COCAMIDOPROPYL BETAINE, GLYCINE, ZINC SULFATE, PEG-75, SODIUM CITRATE, ABSOLUTE ALCOHOL
Share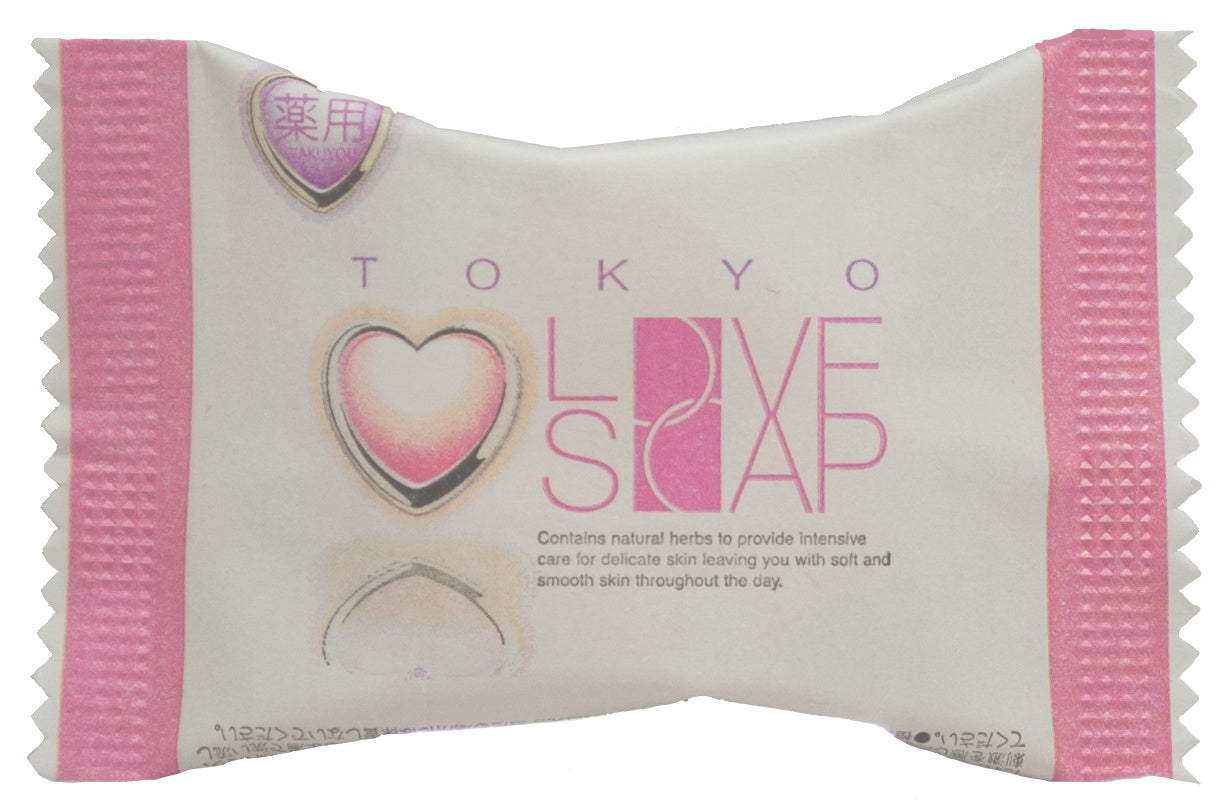 Get a great coupon 🎁

Tokyo Love Soap LINE Official Account Now Available ❣
If you register as a friend, you can get a 300 yen discount coupon right away 💕
p>

We are running a great campaign to give away soap 💕

The Tokyo Love Soap official Twitter account distributes gift campaigns and deals. p>

Please check it out ✨ p>

↓↓↓ p>